12) Phone message from Charleston, S.C., 11-2-96.
10-22-96, 34 33.07 N / 77 19.46 W Mile Hammock, NC
10-23-96, 34 00.12 N / 77 53.33 W Carolina Beach, NC, saw the destruction of Hurricane Fran, docks out, roofs torn off, buildings torn in half.
10-24-96, 33 44.03 N / 78 44.68 W Bearfoot Landing, SC
10-27-96, 33 33.62 N / 79 05.44 W Wakima River, SC
10-28-96, 33 21.81 N / 79 16.98 W Georgetown, SC
10-30-96, 33 09.04 N / 79 19.35 W South Sante River, SC
10-31-96, 32 46.83 N / 79 57.57 W Charleston, SC, site-seeing in the renovated city for two days, walked all over the Battery.
Problem with the Ample Power system, I will try to help debug it from here.

13) Phone call from St. Augustine, FL, 11-14-96 and a message on 11-15-96.

11-4-96, 32 25.76 N / 80 40.70 W Beaufort, SC

11-5-96, 31 58.46 N / 81 03.19 W Isle of Hope, suburb of Savannah, GA. Took bus into Savannah and saw all the old beautiful homes.

11-7-96, 31 27.58 N / 81 18.06 W New Tea Kettle River, had to lay over a day because of strong winds.

11-9-96, 30 45.91 N / 81 28.34 W Cumberland Island, saw wild horses and many seashells.

11-11-96, 30 03.09 N / 81 21.85 W Pine River, FL

11-12-96, 29 53.35 N / 81 18.87 W St. Augustine, FL, hauled boat to fix shaft-seal leak.

Apparently there are no phones in Georgia so they could not call before now. (!) Currently there is a gale blowing from the north. This is the second day of it and it is expected to last two more days.

The shaft-seal for the propeller shaft was leaking and they were hesitant to go offshore until it was fixed. They called the manufacturer and it is being replaced for free. The boat has been out of the water since Wed 11-13-96 and probably will not go back in until Mon 11-18-96. They are taking the opportunity to put another coat of bottom paint on and check the zincs.

I talked them through the Ample Power problem and it turns out the batteries are being charged just fine. The red charge light comes on when the alternator is charging, I remember some incompatibility between the Yanmar panel and Ample Power system. The panel was expecting 0v when charging and the Ample Power system was putting out +12v when charging. Or vice versa. I remember from when I installed it that it had to do with the charge light only and shouldn't be a problem.

On the way down they stopped at Cumberland Island and hiked around on the many hiking trails there. They saw wild horses running around the island. They also toured Savannah and St. Augustine which they thought were some of the prettiest cities they had ever seen.

After the boat is back in the water they are heading to Daytona to re-provision. Apparently there is a supermarket right on the waterfront for easy loading into the dingy. This is the first time they have re-provisioned since May.

They will be leaving the boat in Titusville, FL (Near Cape Canaveral and Orlando) which is three days away. They will be flying back on the Wednesday after Thanksgiving (11-27-96) for Kristin's wedding. Their phone in Rice Lake WI will be connected through December if you wish to call them. Their mailing address is also valid through December but will change after that. I do not have the new address yet.
---
14) Fax from Rice Lake, WI on 12-19-96.

Reflections on the First Leg
Bonnie Dahl

One of the main characteristics of the trip is that the learning curve has gone straight up and we thought we would include a few of the things we have learned along the way:
It's 3200 miles from Bayfield WI to Titusville FL (via Superior's North Shore and criss-crossing the Chesapeake a few times).
Cost: it really doesn't take much to cruise. If you don't spend a lot of time in marinas, you can be very comfortable on $1500/month (or less) and this includes a fair bit of eating out - provided you don't include those orders to Defender and West Marine! We left the Apostles thinking we were fairly well equipped - we certainly had enough Defender/West Marine orders from the winter and spring to show for it. But, it seemed the further east and south we got, the emergency quotient for what we needed to get (or thought we needed) expanded exponentially. Boaters who have been out longer, reaffirm that you just about have to go through this on the first year before leaving stateside - it's almost a panic situation.
It's no big deal to haul your boat on the way or leave it. If you do just a little shopping around you can find inexpensive do-it-yourself boat yards and marinas - that are much cheaper than the Midwest (i.e the Apostle Islands). We started getting information/quotes in the Chesapeake and parts of the ICW for future reference. Individual night docking at marinas is still fairly expensive (we think) - usually around $1 per ft. You can get a break by the week - but the real savings come when you have to leave your boat. By the way, we are finding out it is fairly common to leave your boat to go home for business and especially over the holidays to see family. A lot of people are going to be crossing over to the islands in early/mid January.
Anchoring vs. marinas:

L. Huron - can anchor in about 1/2 of the outer harbors, otherwise it's marinas.
L. Erie - it's difficult to find anchorages - we found only one, tied up to two walls. (Note: surprisingly, it was in these two lakes that we found it most difficult to find anchorages and often had no choice but to use marinas.)
Erie Canal - free dockage at town parks, on lock walls, some anchoring in oxbows, cross inlets. Actually marinas are sometimes hard to find.
Hudson River - anchored all the time except at Catskill and West Point where we hung on a mooring in 60 feet of water!
New York - moorings at Yacht Club on Staten Island still best bet.
Cape May - anchor in large basin, settle into the mud at low tide, everyone does it - or go to a marina.
Chesapeake - people anchor everywhere, right in the main channels in towns! The only places we paid were moorings at Annapolis (cheap and convenient - we could have anchored), Chrisfield (to be with our friends) and Tangier Island (the only show in town - literally).
ICW - have to time your distances in some spots to get to anchorages. Aside from haul-out and Titusville, we never had to pay for dockage.

All in all, (aside from Huron and Erie) we spent 2/3 night per month without paid dockage (excluding haul-out and Titusville) and this was by choice. We had fully planned to stay more in marinas, it had little to do with budget, we just found the anchorages were prettier and more desirable to our way of cruising.

Anchor rode: chain vs. nylon

For years we used 50 ft chain and nylon rode with our primary anchors (35 lb. Delta, 33 lb. Bruce) and a lot of our friends thought that was overkill. In preparation for the cruise, we changed to 70 ft of chain on each anchor. Two thirds down the ICW, we added on chain so we now have 115 ft on each. This means in most situations, we are anchoring on all chain and using nylon snubbers. We can't began to tell you the difference this has made and wish we had made the change before we left. Lesson: you don't have to have 250 ft of chain on one anchor to be "anchoring on all chain" in most places state-side and in the Bahamas. 125 feet does the job nicely - and without all the weight.
Their new mailing address (effective immediately) is:
Ron & Bonnie Dahl
PMB #327, 88005 Overseas Highway, Suite #9
Islamorada, FL 33036-3087

15) Phone message from North Palm Beach, FL, 1-17-97.

11-22-96 29 13.62 N / 81 01.19 W Daytona Beach, FL

11-24-96 29 01.74 N / 80 54.66 W New Smyrna Beach, FL

11-25-96 28 37.21 N / 80 48.51 W Titusville, FL

On January 8th they arrived back at the boat after spending a month in Wisconsin for Kristin's wedding. On the 11th, they got up at 4 am and saw the shuttle launch at 4:20 am. Mom says it was stupendous and they could watch it all the way up until the solid boosters separated.

1-11-97 28 33.13 N / 80 45.14 W Shuttle Anchorage

1-12-97 28 08.72 N / 80 36.29 W Indian Harbor Beach, "The Dragon", FL

1-13-97 27 27.35 N / 80 18.29 W Fort Pierce, FL

1-15-97 26 50.28 N / 80 03.21 W North Palm Beach, Lake Worth, FL

They are waiting for good weather to cross over to Great Bahama Island. It looks like it will be at least until Monday until the northerly wind lets up.

Bought a backup GPS (Micrologic). Will leave 1-2am on Tuesday morning. First head towards Fort Lauderdale then across to La Kia (sp?) or West End. Bought shorty wetsuits and spears. Will call from Nassau in 2-3 weeks.
---
---
54) Fax from Georgetown, South Carolina, 6-3-99
5-22-99, Pine Island (St.M. 765)
11.5 nm from St. Augustine. A beautiful wilderness anchorage amidst the marsh grass.
5-23-99, Cumberland Island (St.M. 718)
From Pine Island 48.4 nm. Would have liked to stay longer but a strong south wind came up making the anchorage uncomfortable.
5-24-99, Jekyll Island (St.M. 684.6)
24.7 nm. Decided to break up the next long jump by staying at the Jekyll Harbor Marina. Using the marina courtesy bikes we biked all over the island for 2 days visiting the beautiful old mansions in the Historic District, the dunes, and remote sand beaches. They have 20 miles of paved biking trails, many through wilderness areas. We saw a baby alligator.
5-27-99, New Tea Kettle River (St.M. 646.8)
33.7 nm, another beautiful wilderness anchorage in the marsh grass.
5-28-99, Isle of Hope (St.M. 590)
49.1 nm, anchored just outside the buoys to get more water and closer to the marina.
5-29-99, Cowen Creek, S.C. (St.M 544)
41.7 nm. It makes a Big difference as to whether the tide is with you or against you on running speed - 1.5 knots +/- the usual speed.
5-30-99, ??? River, S.C. (St.M. 513.5)
Stopped at Beaufort, S.C. for a couple hours to top off the fuel tanks at City Marina, then went over to the Day Courtesy Dock. Walked around, had lunch. Continue on - we gave "186" a large berth because of a Waterway Guide warning but run out of water and aground with our 6'3" draft right in the channel 20 feet from "184". Dead low tide. We were able to wiggle off after 10 minutes but still had lots of thin water for about 1/2 mile. Will have to remember to take this one at least at half tide (tides run about 5 feet) in the future.
5-31-99, Charleston, S.C. (St.M. 469)
Go under the bridge and anchor on the other side where there is less boat traffic. Next day we take the courtesy shuttle out to West Marine, walk around, visit the market stalls, and take the trolley.
6-2-99 South ??? River, S.C. (St.M. 415)
Our intentions were to stop at ??? Creek but we made such good time (6.5 knot average) that we kept on going. Thin water about 3 hours before low tide but we didn't ground.
6-3-99 Georgetown S.C. (St.M. 408.9)
Leave at 0630 to take advantage of high water, 15.3 nm. Lunch ashore, spend the afternoon walking around, this is one of our favorite ports of call.
55) Fax from Washington DC, 6-29-99
6-5-99, 33 33.76 N / 79 05.19 W, Bull Creek, S. Carolina (St.M. 381.4)
Beautiful cypress swamp. Anchored out in the open in the middle because we heard reports from other boaters of snakes dropping down from the trees onto boats. A good fuel stop is Wacca Wache Marina, St.M. 383.4.
6-6-99, 33 48.07 N / 78 44.75 W, Barefoot Landing, S. Carolina (St.M. 353.5)
Free dock right in the ICW. Neat shopping center with novelty stores (24.6 nm).
6-7-99, 33 51.48 N / 78 34.14 W, Little River Inlet, S. Carolina (St.M. 342.0)
Went 11 nm so we could get a jump on the flooding tide to run the Cape Fear River on Tuesday. Anchorage to the left (north bound) appeared unsuitable because of lack of depth so we were forced to anchor in the channel leading to the ocean inlet. We were fortunate to have settled conditions and that the tidal current was not too strong. Would not use this anchorage again as there is some traffic of shrimp boats and casino boats.
6-8-99, 34 12.42 N / 77 47.94 W, Wrightsville Beach, N. Carolina (St.M. 283.4)
Up at 6 am to run the 36 nm to the Cape Fear River. With help of tidal current are able to make good time and get there at 11:30 am and run up the river with a flooding tide. Increasing water also helps with some of the shallow spots in the Snow's Cut. Anchor 1.5 miles off of ICW below fixed bridge. (52.6 nm)
6-9-99, 34 33.07 N / 77 19.45 W, Mile Hammock, N. Carolina (St.M. 244.5)
Time to get to Mile Hammock at 3/4 flooding tide as entrance is 5.5 feet at low tide. We make it in with a little more than 1.5 feet under the keel with our 6'3" draft (34.6 nm).
6-10-99, 34 43.00 N / 76 39.98 W, Beaufort, N. Carolina (2.1 St.M. off ICW 202.3)
Up at 5 am so we can leave on almost full tide (but no ebbing). This time the lowest reading is 2.5 feet under the keel, 38 nm. It's been 3 years since we left Bayfield, WI on this date.
6-11-99, 34 56.02 N / 76 38.97 W, Adams Creek, N. Carolina (St.M. 187.7)
Late start and strong current and wind against us so we don't make it to Oriental. We anchor off in Adams Creek with 2 feet under the keel, 14.5 nm.
6-12-99, 35 01.39 N / 76 41.91 W, Oriental, N. Carolina (2.5 miles off St.M. 181.0)
A short day, 6.7 nm. Get there in time for breakfast at our favorite restaurant - M&Ms. We walk around, an enjoyable day.
6-13-99, 35 28.51 N / 76 32.31 W, Slade Creek, N. Carolina (St.M. 140.4)
A beautiful anchorage off in the side creek and trees, marsh grass and wildlife, 38.9 nm.
6-14-99, 35 56.12 N / 76 01.47 W, Little Alligator River, (St.M. 81.9)
A long day, 53.9 nm. But wanted to be in good position for crossing Albe Marle (sp?) Sound.
6-15-99, 36 21.01 N / 75 56.88 W, Coinjock, Virginia (St.M. 49.5)
Left early to cross the sound, wind S 10-12 knots, little sea, but rain and mist. Top off the fuel tanks at Coinjock.
6-16-99, 36 43.24 N / 76 14.25 W, Great Bridge, Virginia (St.M. 12)
Strong winds (20-25 knots) crossing the sound. Once again the stay-sail bailed us out and we were able to make double the speed as other sailboats crossing with us. It is so nice having that little sail on a furler and ready to go. In Great Bridge stayed at the free dock just south of the bridge as the one between the bridge and lock was full. While in Great Bridge took local buses (with transfer) to an outer Norfolk shopping mall to see the new Star Wars movie.
6-19-99, 36 50.61 N / 76 17.51 W, Norfolk, Virginia (St.M. 0)
The last 12 miles of the ICW and we're done! From Ft. Pierce - 966 St.M. in 5 1/2 weeks. Tied up at Waterside Marina, downtown Norfolk, had supper out to celebrate. Rain.
6-20-99, 37 01.42 N / 76 20.45 W, Hampton, VA
Rain and drizzle. Went up the Hampton River to anchor off the town - 12.8 nm. Next day visited the huge contemporary Air and Space Center. Fantastic exhibits and great IMAX films. We liked it better than the Kennedy Space Center.
6-22-99, 37 00.43 N / 76 18.99 W, Fort Monroe, VA
More rain and drizzle, 2.3 miles round the corner to the military basin at Fort Monroe. Visit the fort. We looked out onto Hampton Roads where the Merrimac and Monitor fought their famous battle.
6-23-99, 37 32.92 N / 76 19.87 W, Jackson Creek, VA
Wind NE 10, 42.5 nm, into Chesapeake Bay at last.
6-24-99, 37 58.18 N / 76 27.59 W, Coan River, Potomac River
Up and around into the Potomac to begin our trek up to Washington D.C for the 4th of July, 42.7 nm. Coan River is on the Virginia side, a little tight getting into the branch we went into. We touch bottom between markers 12 and 13.
6-25-99, 38 11.51 N / 76 26.06 W, St. Mary's City, MD
Went across to the Maryland side and up the St. Mary's River to visit historic St. Mary's City. Not as much as we expected but the replica of the 56 foot pinnace DOVE which brought the first Maryland settlers across the Atlantic.
6-26-99, 38 25.44 N / 77 00.78 W, Tobacco River, Potomac River
The Potomac is a very big river, 10 miles wide at the mouth. Once again the effects of tide become apparent on our speed and we are able to make good time, 44 nm. Unfortunately most of the tributaries are too shallow for us to anchor in, but we get 11 feet in the Tobacco River.
6-27-99, 38 46.79 N / 77 01.96 W, Smoot's Cove, Potomac River
Another 44 miles up the river. On both days we have been fortunate to have a following wind so have been able to roll out the genny. Five miles south of Washington D.C. is the Wilson Memorial Bridge with a vertical clearance of 50 feet (our mast with antennas is about 54 feet). So we have to wait for a bridge opening which is often from midnight to 4 or 5 am. Anchor off in 10 feet 1 mile below the bridge.
6-28-99, 38 52.64 N / 77 01.52 W, Washington Channel, Washington D.C.
We luck out and get wind of a 1230 bridge opening for an ocean freighter and get to pass through in it's wake in daylight. Set anchor off the Capitol Yacht Club. Glad we came a few days early because we get a good spot and hear it is going to fill up fast now for the 4th. Register at Gangplank Marina, $25 week for secured dingy dockage and use of all facilities. Helicopters buzz the anchorage close overhead. We can see the Washington Monument. Tomorrow we will start taking in the sights beginning with the Smithsonian.
56) Fax from Washington DC, 6-29-99
7-4-99, 38 52.64 N / 77 01.52 W, Washington D.C.
You know how they talk about "wind chill", well here it is the "heat index". Projections for today are 105-110 degrees F. They call it Code Orange.
Washington D.C. is experiencing a heat wave. Yesterday it was low 90's with humidity to match. Today it is supposed to reach the high 90's-100, maybe even greater according to the TV. So we have all of our Venezuelan defenses out - side curtains on the bimini, awnings over the main and foredeck. And of course, fans. It all really helps and we aren't that uncomfortable. We plan on pretty much staying on the boat today and staying cool. We'll watch the fireworks as they shoot out over the Potomac from between the Lincoln and Washington Monuments. Besides we have been going pretty strong and have declared this a rest day.
We just love D.C. We have been leaving every morning around 8-9 and getting back to the boat around 6-7 each night. We have visited the Air and Space Museum (spectacular - great IMAX movies), Arts and Industries, National Aquarium, Hirshorn Museum (modern art), Smithsonian Institute, National Gallery of Art (2 buildings), White House visitor center, Washington Monument, Lincoln Memorial, and even took a bus to Mt. Vernon 14 miles away. Probably our most exciting adventure is that we have braved, and more important, conquered the Metro. This feat of contemporary engineering is a massive underground subway system that links all of D.C. through intricate tunnels, criss-crossing sub-lines, and efficient stations, transfer points, etc. Using the Metro we went out to the National Zoo (fantastic) and spent another day at National Geographic Explorer Museum (double fantastic). We were only going to stay a week but it looks like we are going to have to stay at least another as there are so many more places we want to see including the Natural History Museum, the Navy Memorial Heritage Center, the FDR Museum, and Arlington Cemetery. They call D.C. a grand political/historical theme park and they are right.
57) Letter Annapolis, 7-29-99
7-14-99, 38 48.73 N / 77 02.29 W, Alexandria, Virginia
Finally pulled anchor in D.C. and motored around to James Creek marina to take on fuel and water. Then motored 5 miles downstream to Old Town Alexandria, where we tied off on the city dock for $5.00. Spent the afternoon wandering through beautifully restored Old Town visiting many of the quaint shops. We had previously called the Woodrow Wilson Bridge via telephone (202 727-5522) to arrange for a midnight opening. So at 11:30 pm left the dock to get in position and at 12:02 the bridge opened for us. Set anchor at 12:30 1 mile downstream in Smoots Cove where we had been before and went to bed.
7-15-99, 38 25.52 N / 77 00.75 W, Tobacco River (Potomac)
This anchorage really breaks up the trip up or down the Potomac nicely into two 44 mile days.
7-16-99, 38 01.50 N / 76 34.43 W, Yeocomico River (Potomac)
Anchored in a cove off the town of Kinsale. On Sat visited cruising friends from South Africa. Went swimming in the pool - it was 95 deg.
7-18-99, 38 24.85 N / 76 29.07 W, St. Leonard Creek, (Patuxent)
One of the more beautiful places we've been to in the Chesapeake. Wooded bluffs to each side, a few homes. It's hot - 95 deg- but we are blest with a cool breeze. Unfortunately, we can't go swimming because of the jelly fish, but we manage some 'pool time' at a restaurant marina that we dinghy to.
7-20-99, 38 20.22 N / 76 27.62 W, Back Creek (Solomon's)
Lots of boats. Anchor in Back Creek, adjacent to the Holiday Inn. This is convenient to a laundromat, post office, restaurants and an outstanding grocery store and deli. We visit the various marinas and chandleries. Have the sun-damaged window in the dodger replaced. Visit with the Damerells, circumnavigator cruising friends we met years ago in North Channel.
7-2-99, 38 58.52 N / 76 28.94 W, Spa Creek, Annapolis
Hot and muggy - pick up a mooring at $15/night - we sign up for a week at $85. Annapolis is GREAT FUN with lots to do. Ron is like a kid in a candy shop with all the marine stores. Take a local bus to a suburb of Baltimore to get our computer printer repaired. Travel time - 1 hr 15 min one way, all for $1.35 - wow!
58) Email from St. Michaels
8-2-99, 39 04.92 N / 76 07.44 W, Corsica River
Finally went across to the other side of the Chesapeake into the Chester River on the Eastern Shore. It is quite a change from the western shore being more wild, less built up and lots of wildlife. The Corsica is a tributary of the Chester River and one of our favorites in the Chesapeake. It also makes a nice stopover to break up the long trip up to Chestertown.
8-3-99, 39 12.35 N / 76 03.77 W, Chestertown
Another 14 miles up this beautiful deep navigable river to Chestertown. Anchored off the town in lieu of the town marina which we thought was too pricey for the area and what you get ($1.25/foot/night). Chestertown is different from the hussle of the cities and towns on the Western Shore and we thoroughly enjoy lots of hiking and visiting quaint shops and restaurants. Meet Great Lakes sailors from years past, Bill and Debbie Denton who invite us over to the house they are renting for the summer.
8-7-99, 39 05.01 N / 76 06.76 W, Corsica River
This time we go further up the Corsica and spend a few days. Still have lots of stinging nettles (jelly fish) so we can't swim. Are also visited by lots of rays with their wing tips looking like 2 shark fins.
8-9-99, 38 47.35 N / 76 13.18 W, St. Michaels
Make the long trek around Tilghman Island (47 nm) as opposed to Kent Narrows (which would have cut off approximately 25 nm). Considered going through the narrows which are dredged to 7 feet at high tide with our 6 ft plus draft. But high tide was at 1800 which would have meant getting in late and a strong northerly wind would have made the approach to the buoyed channel tricky. Besides we couldn't pass up the opportunity to have a great sail.
St. Michaels has to be one of the neatest places on the Chesapeake. A boaters mecca, it caters to transients with a nice dinghy dock, neat shops and restaurants, lots of good walking and very nice people. It's hot and humid again with everyone complaining - but it's nothing like Venezuela or the offshore islands.
59) Phone call from Western Chesapeake
8-14-99, 38 53.18 N / 76 09.27 W, Dividing Creek, Wye River
A beautiful wilderness anchorage with lots of wildlife. On Sunday the engine wouldn't start when we went to run refrigeration. Changed the solenoid - nothing; changed the ignition switch - nothing; put in a completely new starter and bingo - the engine started. How many times have we been glad to have replacement parts on hand. We didn't leave with an extra starter, but ordered one from the Turks and Caicos when a starter on a friend's boat died. Figured if it could happen to him, it could happen to us.
8-16-99, 38 47.19 N / 76 13.09 W, St. Michael's
Went back into St. Michael's for one more day.
8-17-99, 38 42.52 N / 76 09.97 W, Oxford
Anchored off to the side, just outside inner channel buoys - 1.5 ft under the keel. Oxford is a quaint sleepy little town with very friendly people.
8-19-99, 38 38.06 N / 76 06.63 W, La Trappe Creek-Choptank R.
One of the most beautiful anchorages in all of the Chesapeake. On the second day woke up to cold fog and mist rising up from the water - brought back memories of L. Superior.
8-21-99, 38 34.31 N / 76 04.45 W, Cambridge on the Choptank River
According to the GPS, today we turned 10,000 nm since leaving Bayfield over 3 years ago. Cambridge has a large FREE DOCK for transients right in front of the Dorchester County House. A couple of mile hike takes us to a number of shopping malls which include K-Mart, Wallmart and of course fast food. It's a nice change from the wilderness areas - Chesapeake has everything.
--Bonnie
8-28-99, email from Cambridge
We are still in Cambridge keeping a close eye on Dennis the Menace. Since Dennis has stalled, we are going to make a run for the Potomac: leaving tomorrow (Sunday) for the Solomons on the west side and then Monday another 40 miles to Port Kinsale Marina on the Potomac. At this point it doesn't look like Dennis is going to cause to much of a problem in the Chesapeake, but with hurricanes - you never know.
8-30-99, phone call from Port Kinsale Marina in Solomon Islands on western edge of Chesapeake
They are riding out Dennis in a marina since they ran out of time trying to get up the Potomac River. There is a cold front from Minnesota complicating things by causing even more wind. Norfolk and Hampton are flooding nearby and the wind is around 47 knots but not getting worse. --pete
9-6-99, Email from Port Kinsale Marina
We are finally over Dennis after tracking the fellow for over 2 weeks. The storm finally went ashore south of us and quickly dissipated. The strongest winds we had were around 30 knots, but we are tucked in and sheltered so well, we hardly felt them. Had quite a bit of rain on Sunday and the water level rose quite high - over the docks at high tide. So we were 'boat bound' for a number of hours.
Ron is busy working on the boat. The painted aluminum cleats really 'packed it in', so we are replacing all of them with new stainless cleats. Are also replacing the down wind pole ends with new custom made stainless ones, and stainless deck chocks for the poles for those times we don't stow them on the mast. Also got a new custom made stainless anchor holder for the stern anchors. We are also doing a lot of cleaning - clearing out the lockers of a lot of accumulated 'stuff'. Some we are sending home in boxes, other we are just throwing away. It's amazing what you can accumulate in 3 years of cruising.
Have more time now - because the couple I came to the library with have a couple of hours of work on the computer to do. They are from South Africa, we meet them when we were in Venezuela and have cruised with them a number of different times. They have bought an old used car because they plan on spending a few years off and on in the States.
60) Email from Port Kinsale
8-29-99, 38 19.81 N / 76 27.03 W, Mill Creek, Solomons
Had a nice sail down to the Solomon's. Anchored in Mill Creek because there is more swinging room and were expecting a blow during the night. Sure enough it hit at 0200 - 20/25 knots.
8-30-99, 38 19.97 N / 76 27.65 W, Back Creek, Solomons
Went around to Back Creek where there are more amenities, stores etc. Waited a couple of days to have a special stainless bracket for the mast-head welded. Blustery weather continues.
9-2-99, 38 01.84 N / 76 33.35 W, Port Kinsale Marina, Yeocomico River off the Potomac
Had a great sail off the wind (NE 20/25 knots) down to the Potomac and then about 9 miles up the Potomac to the Yeocomico R. Have booked a month at a small remote marina to get some boat work done. We are in an especially secure corner which was evidence on Sunday. Dennis the Menace finally made up his mind after stalling for days off C. Hatteras and came on shore Saturday, just south of the Chesapeake. By time it's outer reaches got to us on Sunday we had only 25 knots of wind (which we barely felt tied up behind a large wind break and spit of land) and lots of rain. The water rose quite a bit, especially at high tide, and our dock was well under so we were 'boat bound' for much of the day.The area is quite beautiful with lots of forests of southern pine and wildlife in the adjacent wet lands. We are with 2 other cruising boats from South Africa, friends we met in Venezuela and on the ICW.
61) 9-15-99, noon, phone message from Port Kinsale Marina
They are ok but right in the path of Hurricane Floyd. Floyd is expected to come ashore tonight in S. Carolina and will reach them Thursday (9-16-99). They hope it will lessen but are looking for shelter now. They do not know if they will stay with the boat. Currently Floyd is Category 3, 125 mph winds. --pete
Here are the current pictures (2 pm PST, 9-15-99):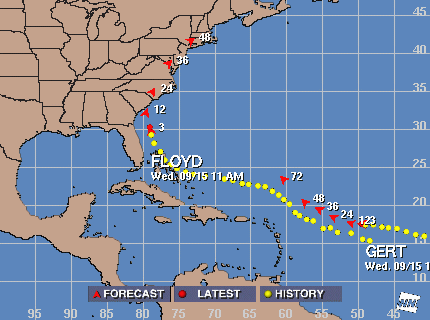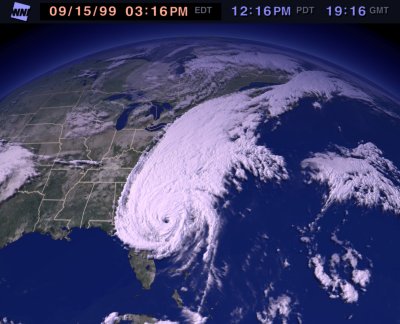 9-17-99, phone call from Port Kinsale Marina:
They are ok, Floyd veered NE and lost some power as it hit. The eye passed 80 miles to the east of their location. The worst wind they saw was 30 knots and they experienced lots of rain. There was 65 knots of wind in the open part of Chesapeake Bay. The docks at Kinsale Marina were under water due to the surge and they had to wade ashore on the dock. They had double docklines going to the structure of the dock and two stern anchors out with full scope into the harbor. To get from the dock to the boat they had two lines and walked across those. They removed the genoa and lapper from their furlers but left the main and inner foresail on but wrapped with line to keep them furled. They were hit by the NW quadrant of Floyd which is much better than being hit by the NE quadrant where the hurricane's speed ads to the wind strength (Floyd was traveling at 30 mph northward). The hurricane hit about 3:30 am Thursday morning. That morning around 8 am Bonnie left the boat with friends for a nearby brick house with basement, Ron stayed with the boat. By Thursday evening the worst was past. --pete
62) 9-27-99, email message from Port Kinsale Marina
We are beginning to wind down boat work and start getting ready to head south. It would be nice to be at the Annapolis Boat Show and meet the people in the e-mails, but then we wouldn't make it in time to fly home for Thanksgiving. Guess you can't have everything. We hope to start heading south out of the Chesapeake on Monday, 4 October. That is of course weather permitting. It's three days to Great Bridge, Virgina - which is another good spot to weather storms. They also have a library there where we can check out hurricanes etc. before heading out across the large sounds. But from then on, we're pretty vulnerable. I figure we have to leave Great Bridge by 15 October to make it to Titusville by mid-November.
10-1-99, email from Port Kinsale
We plan on leaving Port Kinsale early Monday morning and weather permitting should be in Great Bridge by Wednesday afternoon. Will spend a few days there, probably through Saturday, because we are having the starter that 'packed it in' repaired there and there is a library close by where we can check on weather/hurricanes etc. Great Bridge is the last really good protection for storms and then we have a couple of large sounds to cross before we get on the other side of Cape Hatteras. So we want to be pretty sure of the weather before we leave there.
63) 10-7-99, email message from Great Bridge, VA
10-4-99, 37 32.69 N / 76 20.07 W, Jackson Creek, VA
It's getting colder, the days are getting shorter, the geese are a honkin' and flying over head - headed south - and it's time we do likewise. Our month at Port Kinsale proved worthwhile - we got lots of boat work done AND it proved a GREAT place to weather hurricanes. We set anchor in Jackson Creek with lots of cruising boats - all who got up and headed out early the next morning. And so we 'join the pack'.
10-5-99, 37 00.42 N / 76 18.90 W, Fort Monroe, VA
A cold blustery day - but had a fantastic door-to-door sail on strong northly winds - reminded us a lot like sailing on L. Superior in the fall. A good day to be headed south.
10-6-99, 36 43.29 N / 76 14.51 W, Great Bridge, VA
Statute Mile 11.5. This was our 3rd time going by Navy Alley and through Norfolk and as always it was really interesting seeing all the submarines, aircraft carriers, container ships from foreign ports being loaded. We are stopping at Great Bridge to stock up on supplies, pick up our repaired starter (now our spare) and get the latest updates on tropical depressions before heading down the ICW. On each opening of the lock there is a flood of boats heading south - at least a dozen each time and the lock opens passes boats through just before each hour in time to make the opening bridge.
10-8-99 email from Great Bridge
We have decided not to lay over tomorrow but head out once again. This gives us an extra day for inclement weather or what-ever. Besides, as we see all the boats passing us by it makes us anxious to get going too. We have just looked at the hurricane site. Tropical depression 11 along the east coast of Mexico has dissappated, TD 12 east of the lesser Antilles looks like it will probably do the same in the next 24 hours. Hopefully, as we continue into October the chance for TD gets less with each day passage and nothing will build or reach the U.S.
Don't know when I'll get on-line again. We have 4 or 5 days of wilderness travel before we get to another town (Oriental, NC) and we aren't sure if they have a library there. But we'll keep in touch.
--Bonnie
---